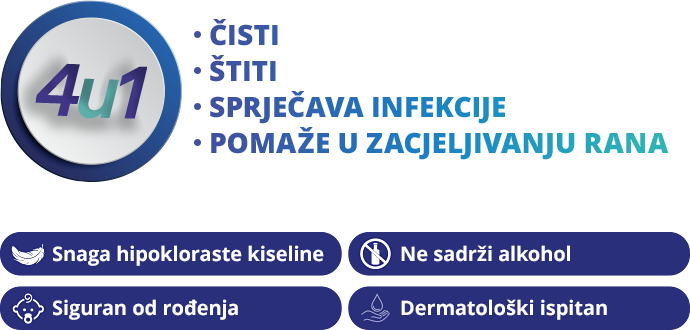 POTRAŽITE U LJEKARNAMA I SPECIJALIZIRANIM PRODAVAONICAMA!
Effigerm Wound Wash - otopina za čišćenje, ispiranje i vlaženje rana
KORISTI SE ZA:
tretiranje manjih ogrebotina,
razderotina,
iritacija,
posjekotina,
te za primjenu na neoštećenoj koži - pomaže u sprječavanju stvaranja biofilma.
KAKO DJELUJE?
čisti, ispire i vlaži rane
pomaže u sprječavanju stvaranja biofilma
sprječava infekcije
pomaže u procesu zacjeljivanja rana*
Učinkovitost Effigerm Wound Wash formulacije
Koristi se za vlaženje obloga za rane, vlaženje same rane, kao i za uklanjanje obloga s rane na kojoj se formirala krasta.
Mehanizam djelovanja je modificiranje okruženja rane mehaničkim uklanjanjem stranih tijela koja mogu uzrokovati iritaciju kože i infekciju te pružanje optimalnog okruženja u pogledu vlage, kisika i pH kako bi se pomoglo u procesu zacjeljivanja.
Prednosti Effigerm Wound Wash formulacije
Učinkovitost hipokloraste kiseline
Prevencija stvaranja biofilma
Siguran od rođenja (0+)
Bez alkohola
*Armstrong, D. G., Bohn, G., Glat, P., Kavros, S. J., Kirsner, R., Snyder, R., & Tettelbach, W. (2015).
Expert Recommendations for the Use of Hypochlorous Solution: Science and Clinical Application.
Ostomy/wound management, 61(5), S2–S19.